Harurot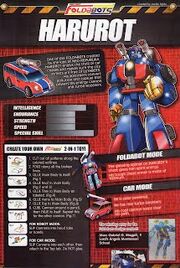 is one of the
Foldabots
created by the kids of
Neo-Republika
.
He enjoys the thrill of car chases and makes sure the city streets are free of Lutabots. His absorbers convert pollution into biofuel that powers his energy cannons and turbo boosters.
Intelligence: 4
Endurance: 3
Strength: 3
Speed: 3
Special Skill: 5
Abilities
Edit
Foldabot Mode
Edit
The glowing agimat in Harurot's chest gives him spirit energy.
His tough chest armor is made of titanium.
He is solar-powered
He has rear turbo boosters
His roof cannon helps clear his path.
Harurot means "fast" in Filipino.
He was created by Marc Gabriel Magpili.
Ad blocker interference detected!
Wikia is a free-to-use site that makes money from advertising. We have a modified experience for viewers using ad blockers

Wikia is not accessible if you've made further modifications. Remove the custom ad blocker rule(s) and the page will load as expected.