Grunderade 
is the forcer member of Rallibots.
He is one enforcer and he has a gun to shoots enemies. He's agile and concentrate behaviour Foldabot has been fulfilled with his mission side by side with Lancerouge as the super-agent, where he discovered crime and investigate the Foldabot while Lu-sho has a lutant mystery and retreats away. He know that he was to supposed fight crime and helps victims to investigate the identity. He transforms into mid-sized car mode.
Horsepower: 190hp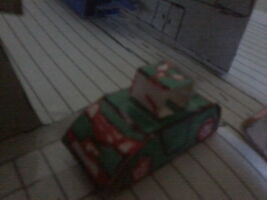 Body style: 4-door sedan
Engine: V6
Transmission: 5-speed semi-automatic
Abilities
Edit
Can a wield with his gun.
His mind to someone calls for crime stealing.
His punches to make fire prolonged-burn.
He has V6 engine motor.
Ad blocker interference detected!
Wikia is a free-to-use site that makes money from advertising. We have a modified experience for viewers using ad blockers

Wikia is not accessible if you've made further modifications. Remove the custom ad blocker rule(s) and the page will load as expected.