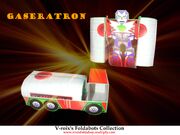 Gaseratron is a Supremobot who has flamethrowers for arms.
Gaseratron is the Lutabot arsonist who enjoys only one thing: turning things into ashes. This makes him one of the deadliest members of Lu-sho's Supremobots, a lethal city-based sub-group who desires total control over the future city Neo-Republika. But Gaseratron's tendency to make rash decisions makes him a liability and the flammable oil he carries in his tanker makes him a danger even to his own team.
He turns into Kontrolion's left leg and his oil tankers turn into mighty jet boosters.
Appearance
Edit
Gaseratron is a red and purple Lutabot with a flame like design on his feet. His oil tanker spits in 2 to become arms and double as flamthrowers. He has a life-giving Lutant splat on his chest.
INTELLIGENCE: 2
ENDURANCE: 2
STRENGTH: 4
SPEED: 4
SPECIAL SKILL: 4
LUTABOT MODE
A Lutant splat is found in his chest cavity.
He has wicked fireblast generators and an oil storage tank.
He has ultra enhanced body armor that can withstand intense heat.
OIL TANKER TRUCK MODE
Sensors under his body can detect subterranean oil reservoirs.
How to make Gaseratron
Edit
Cut out all patterns on the toycard. Follow the green lines.
Fold along all broken lines.
GLUE Main Body to itself to form the front cab of the truck.
GLUE the Combination Sleeve to itself.
GLUE the Combination Sleeve to the back of the robot's chest.
GLUE Tires 1-4 to the Main body as labeled.
GLUE each Tank part to itself.
Join the two Tank parts and place them on the back of the truck. DO NOT GLUE THESE. You may use a paper clip to keep them in place.
In Oil Tank Truck mode, attach the tank parts using two paper clips to form his arms.
He is the first Lutabot to have no hands/fingers as a toy.
Gaseratron's name root "Gasera" means "oil lamp" and oil is a flammable fluid.
Gaseratron's face look's like a gorilla, oddly enough, he's photographed toy form has him pose like a gorilla.'
Gaseratron's face as a toy looks very much like Kalmot
According to the comics, gaseratron was once a foldabot too named gasera, (his bio doesnt say anything about being brainwashed