Foldabots Toy Book 4 is a compilation book, released on October 2011.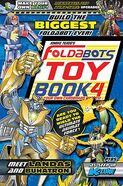 This toy book has no Dark Ages figures and instead, launches the first Foldabots Masterpiece edition; Astig, the Ultimate Agimat Force weapons and a figure of Blup that made it made even more special than Toy Book 3. However, Toy Book 4 only has two exclusive Foldabots/Lutabots unlike Toy Book 3, which had four.
Bold text indicates this robot is part of the Lutabots team.
indicates this robot is released in the Foldabots Toy Book instead of K-Zone.
Exclusives
Edit
SPECIALS
Blup NR
Astig Masterpiece Edition
Buhatron is the only Lutabot that is released in Foldabots Toy Book 4.

Also, Buhatron's Agimat Card is the only one that is released in Foldabots Toy Book 4.
Ad blocker interference detected!
Wikia is a free-to-use site that makes money from advertising. We have a modified experience for viewers using ad blockers

Wikia is not accessible if you've made further modifications. Remove the custom ad blocker rule(s) and the page will load as expected.