Exerwave 
is the leader of the 
Rilecons
 and his captain Exerbolt.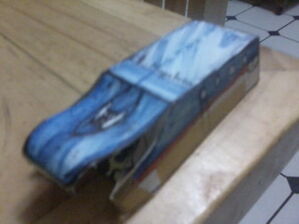 Appearance
Edit
Exerwave is a blue, red and white Foldabot which he transforms into high-speed service train in alternate mode. Like all the Foldabots, he's acquaintance and he knew that has no prophecy and he knew his slightly, than he's friends Liyab, Alakdan and all the leaderships of Foldabots. His dashfully and his strong enough to seen the broken bridge and the unknown train to stop and he pushes his strength has ultimate agimat force with his superpower of his muscle-powered force. And he's the powerhouse kindness Foldabot has ever seen.
Abilities
Edit
Foldabot Mode
Edit
His hands to pushes any stoppers and his agimat force on his chest to make stopper.
His hands have water blasts.
He has agimat on his chest mall.
High-speed Service Train Mode
Edit
His accelerate to make it normal speed.
His brakes to make stopped.
He has 16-seats to make a passengers.
He has night vision to make unseen.
Ad blocker interference detected!
Wikia is a free-to-use site that makes money from advertising. We have a modified experience for viewers using ad blockers

Wikia is not accessible if you've made further modifications. Remove the custom ad blocker rule(s) and the page will load as expected.