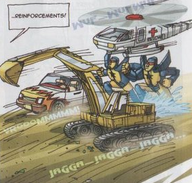 The
Elementrobots
is a subgroup of 
Foldabots
that control the elements of fire, water, earth and air. They combined themselves to form
Elementron
.
Earth (Ukay)
Wind (Tutubi)
Fire (Siklab)
Water (Alon and Agos)
They were the 1st combiner team to be reissued.
They are the only combiner team (not counting the teams that haven't appeared yet) not to be seen in the comics for a long time now.
Tutubi is the only Elementrobot to be seen so far in the comics.
When combined, they have the Yin and Yang logo on their hands.
They are the 1st combiner team to meet and defeat Lu-Sho.
They are the 2nd Foldabot combiner defeated by the Lutabots. ( The first is Saurotron.)
Ad blocker interference detected!
Wikia is a free-to-use site that makes money from advertising. We have a modified experience for viewers using ad blockers

Wikia is not accessible if you've made further modifications. Remove the custom ad blocker rule(s) and the page will load as expected.