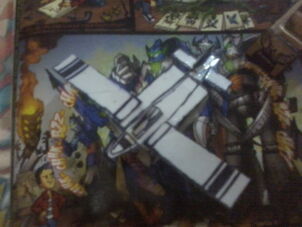 Dusterance is a rookie plane Foldabot.
He is one powerful agricultural aircraft while his worker Buhawi to making all crops and protects all gardeners for worst with Tambak.
It transformed into agricultural airplane or Air Tractor AT-501 in alternate mode.
Abilities
Edit
He uses powerful sand blasters with a propeller.
Photon blasters.
Gatling guns.
Ad blocker interference detected!
Wikia is a free-to-use site that makes money from advertising. We have a modified experience for viewers using ad blockers

Wikia is not accessible if you've made further modifications. Remove the custom ad blocker rule(s) and the page will load as expected.