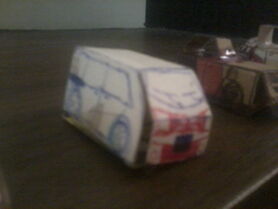 Delicazeir is a white Foldabot. He is a former heavylifter bot' that he was a van in alternate mode, that carries and supports of his trunk. He's all out excited and hyperactive guy normally he's one mentor with Siklab was a wagon.
Horsepower: 148hp
Body style: Van
Engine: Gasoline
Transmission: CVT INVECS automatic
Abilities
Edit
He has red lasers with his two hands.
His headlights can blind enemies.
His taillights can confuse enemies.
He has blue lasers out of his eyes.
Ad blocker interference detected!
Wikia is a free-to-use site that makes money from advertising. We have a modified experience for viewers using ad blockers

Wikia is not accessible if you've made further modifications. Remove the custom ad blocker rule(s) and the page will load as expected.