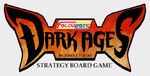 Dark Ages
is a prequel to the Foldabots: Comics and a strategy board game.
DARK AGES HISTORY
Edit
The Dark Ages is a timeline where a peaceful inhabitants mainly, the Luman clan whose coexistence with nature and tranqulity have escalated their life to mystic proportions. However, the Armado clan, a group of people who are set to rule the world, pose threat to the Luman clan. Years after that, the Luman clan died their souls were reincarnated to each Foldabot. The world of Dark Ages is a world of war.
Inhabitants
Edit
Krull Beakhunter(former)
Mala Punisha (former)
Azurak
Ad blocker interference detected!
Wikia is a free-to-use site that makes money from advertising. We have a modified experience for viewers using ad blockers

Wikia is not accessible if you've made further modifications. Remove the custom ad blocker rule(s) and the page will load as expected.