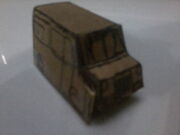 D3-Dasher was a ruthless,arrogant and commonly known as "
Dash Boss"
.His so aggressive and arrogance was illegally and partner by 
Tigastron
 to prevent with a tag team partner to his match.Thus power can utterly rubble with a boulder and shot enemies to destroy Foldabots.His brutal words over by 
Sagip
 cannot help any health that he wounds was fought a fight for him.His glasses with laser beam and he transformed into Peugeot D3 Van mode to rage over Sagip's exhortation.
Abilities
Edit
LUTABOT MODE
A lutant splat is found in D3-DASHER's chest plate.
He's equipped with his glasses to blast a laser beam.
His Tigastron's lutant brainbox reduces logic circuits turns confusion.
CONTROL PANEL VAN MODE
His exostructure can withstand mega impact.
He has a compartment storage for secret missions.
He has a front bumper to paralyzed with smoke attacks.
Ad blocker interference detected!
Wikia is a free-to-use site that makes money from advertising. We have a modified experience for viewers using ad blockers

Wikia is not accessible if you've made further modifications. Remove the custom ad blocker rule(s) and the page will load as expected.