Crawcher 
is the member of 
Forresbots
.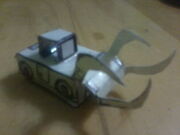 Crawcher is a compact grapple tractor whose dense with a big claw and tusked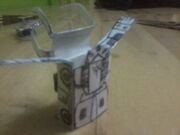 all over 
Apoy
's drill and thrown over through battle. His grapple claw has sharp like a trap. He turns into 
Forrestron
's left arm.
Abilities
Edit
FOLDABOT MODE:
An agimat-living on his chest plate and gives into powerful berserk.
His grapple claws turns into standard claws on his hands and slashes enemies.
He has strength,power and reduces enemies with a clawhold on his head and drains heals
COMPACT GRAPPLE TRACTOR MODE:
He has a powerful grappling claws and grabs something drill devices.
His eyes with lasers and attacks enemies. Sometimes it produces energy and collects agimat.
Ad blocker interference detected!
Wikia is a free-to-use site that makes money from advertising. We have a modified experience for viewers using ad blockers

Wikia is not accessible if you've made further modifications. Remove the custom ad blocker rule(s) and the page will load as expected.