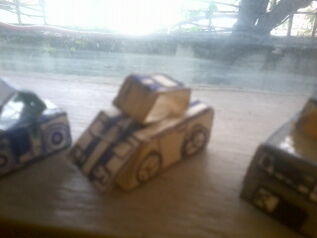 Corvablank is a speediest Foldabot.
He was a sports car or convertible car in vehicle mode. Like his paint jobs his white paint job and blue stripes to make some style and real his some serious to fight tuned cars one-by-one in a battle or even challenge other race.
It transformed into convertible car mode.
Horsepower: 245hp
Body style: 2-door convertible
Engine: L98 V8
Transmission: 6-speed manual
Abilities
Edit
His blue stripes can energized and blasts with a powerful whip.
Oil spill located his muffler.
Silver muffler acts like a flamethrower.
Ad blocker interference detected!
Wikia is a free-to-use site that makes money from advertising. We have a modified experience for viewers using ad blockers

Wikia is not accessible if you've made further modifications. Remove the custom ad blocker rule(s) and the page will load as expected.