Clitcher 
is the member of the 
Forresbots
.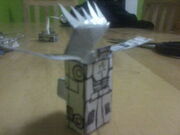 Clitcher likes to load things like a job or work with the rest of Foldabots, the shovel makes to lift something heavy like logs,boxes and more. Clitcher sought with his magic powers on his shovel and flips Lutabots away with a shovel loader. Clitcher is generous and he's operative manners that helping people lifting together. He turns into Forrestron's left leg.
Abilities
Edit
Foldabot Mode
Edit
An agimat-living on his chest plate gives him energy. 
His power punch blasts into triplet laser beams.
His dense armor is defensively to shieldbearer.
Wheel Loader Tractor
Edit
His shovel claw is stronger in tractor that he lifts something heavy.
His wheels are designed to accelerated.
Ad blocker interference detected!
Wikia is a free-to-use site that makes money from advertising. We have a modified experience for viewers using ad blockers

Wikia is not accessible if you've made further modifications. Remove the custom ad blocker rule(s) and the page will load as expected.