Chiteroid 
is the heaviest gadgeteer Foldabot that holds a cannon and any weapons.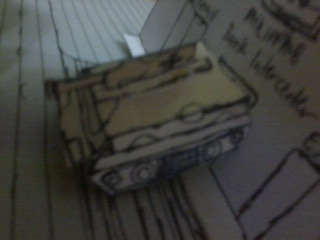 He's the most fearless and rageous like the only one Bangis and he wants to be a mentor to fight notorious tank like the other tanks in the city. Many days have been fought to a no contest, he looks pretty good of his weapon he has cannon to shoot any lutant made with anti-lutant beam and heals any Foldabot while Lu-sho goes to spit on you.
He was transformed in anti-aircraft cannon tank in alternate mode. And he lives to secure at the bank center.
Abilities
Edit
He has conventional steel armor.
He has autocannon to blasts enemies.
He have multi-fuel engine.
He has cannon made with bandage to cure or aids Foldabots.
Ad blocker interference detected!
Wikia is a free-to-use site that makes money from advertising. We have a modified experience for viewers using ad blockers

Wikia is not accessible if you've made further modifications. Remove the custom ad blocker rule(s) and the page will load as expected.