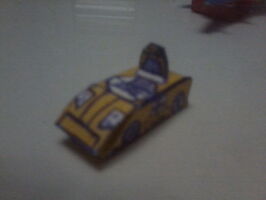 Caparater is a twin brother with Caparotron, as a specialist Foldabot.
He has tricks and has spinning drift for his speed aerodynamics like no sense for his wheels. But his brother he's a twin half and any has no regrets getting reluctantly, immediately, and respectfully for making show some happiness those jerks around.
It transformed into sports car in vehicle mode.
Horsepower: 583hp
Body style: 1-door coupe
Engine: naturally aspirated V8
Transmission: 6-speed sequential
Abilities
Edit
Photon blasters.
Flash blasters.
Sleeping smoke located his muffler.
Spinning drifting attack.
The agimat on his chest plate.
Ad blocker interference detected!
Wikia is a free-to-use site that makes money from advertising. We have a modified experience for viewers using ad blockers

Wikia is not accessible if you've made further modifications. Remove the custom ad blocker rule(s) and the page will load as expected.