Camaronouge 
is the truthfulness and passionate of his skill and he's stratergizing Foldabot. He is the most powerful Foldabot and fights with 
Verdetron
 through a match and he hates pollutant to keep his armor protects. He takes on the form of the Chevrolet Camaro 2010.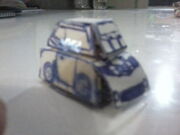 Abilities
Edit
FOLDABOT MODE
Edit
He is speedful in his V8 engine and speed fighter.
He is speed with his fists and take off the Lutabots.
An agimat-living on his chest plate.
SPORTS CAR MODE:
Edit
His wheels have drift skills.
His windshields have a gadget spy skills.
He has V8 engine sport tuned motor.
Ad blocker interference detected!
Wikia is a free-to-use site that makes money from advertising. We have a modified experience for viewers using ad blockers

Wikia is not accessible if you've made further modifications. Remove the custom ad blocker rule(s) and the page will load as expected.