Butastrone is the enemy by Kapre and he doesn't exist that transformed into New Type Heavy Tank has no right to enter Tank City,but he could not accept his defeat and now he exercise everyday to his nemesis and fight Kapre could get fair and square. He's normally devious soldier and dedicated to his mission but become's tormented between his allegiance and stubborness. 
Skills and Abilities
Edit
A lutant splat was the purple armor and shields to shell.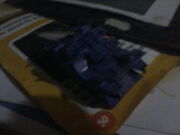 He had crazed like Gaseratron with his partner and blast with super mega cannon and blasts buildings.
His mega cannon to blasts everything.
His lasers to stuns enemies.
His armed with double machine guns attacks enemy.
Ad blocker interference detected!
Wikia is a free-to-use site that makes money from advertising. We have a modified experience for viewers using ad blockers

Wikia is not accessible if you've made further modifications. Remove the custom ad blocker rule(s) and the page will load as expected.