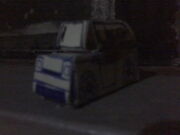 Bulubundukan
is the trusty and was bullying with
Kudetron
wasn't scared to trash talk and battles in the mountain province by the redwood arena and fought back with his punches to beatdown Kudetron.he transforms into mega utility truck mode with an exclusive vinyl of the Angry Birds as Yellow Bird.He loves smash rocks and punches to training.
Abilities
Edit
His agimat chest to energize with furry fist some combos.
His hands to punch and far fist attacks enemies.
His speed to move fast and carry all passengers to take their rides.
Ad blocker interference detected!
Wikia is a free-to-use site that makes money from advertising. We have a modified experience for viewers using ad blockers

Wikia is not accessible if you've made further modifications. Remove the custom ad blocker rule(s) and the page will load as expected.