Bulok 
is dreamed was strange Lutabot to scared over Miko and his foldabot
Kulog
 in the creepy forest was a strange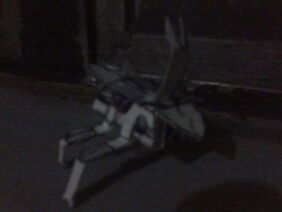 dream and look to find way out and fights back while Miko is stand yell and fight Bulok with Kulog to improve one-on-one fight and transformed into strange stag beetle where Bulok has nothing well by asleep of Miko's dream to find way out.
Abilities
Edit
LUTABOT MODE
His claws to scratch over Miko's jet to performed paint scratch.
His stench breath to stunned over Miko's blind to performed smokescreen.
STAG BEETLE MODE
Stench to perform smokescreens.
His stag horn and grab over Miko's jet tumble around.
His arms and legs to performed crash and cracked paint scratches over Miko's jet.
Ad blocker interference detected!
Wikia is a free-to-use site that makes money from advertising. We have a modified experience for viewers using ad blockers

Wikia is not accessible if you've made further modifications. Remove the custom ad blocker rule(s) and the page will load as expected.