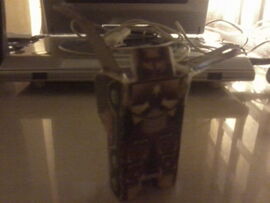 Buhat is a purple foldabot minis he forms the body the combiners
Appearance
Edit
Buhat is a purple foldabot minis that is in the big pretzel box and his alternate mode is a trailer truck and there are two of them.
Buhat means carry.
The second Buhat has a trailer and can carry vehicles and other foldabot minis.
The Buhat with mouth is the original Buhat and is the torso of the first foldabot minis combiner
Please go to Buhatron for the article about this robot.
Ad blocker interference detected!
Wikia is a free-to-use site that makes money from advertising. We have a modified experience for viewers using ad blockers

Wikia is not accessible if you've made further modifications. Remove the custom ad blocker rule(s) and the page will load as expected.