Bernulline is passionate Foldabot.He lives in cities that around in 
Neo-Republika
 and fights these guys to fight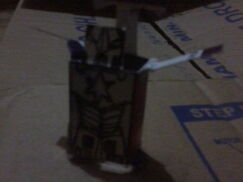 crime like 
Patrol
 as a policeman.His striking with his rear wing turns into stilleto blade was armed and disarmed into rear wing again then he volatile personality and showmanship in this mission.But this time he survived his race to challenge 
Verdetron
 was humiliated by him and who knows that transformed into Italian F1 race car covered with Italian-style his bodied and challenge with his weak green car to race him.
Abilities
Edit
Micro-enhanced vehicular body is resistant to damage.
Front air ducts increase speed.
Rear vents emit smokescreen.
Early-warning sensory region in his front wing.
Bernulline was Italian race car.
He is passionate Foldabot that challenges Verdetron.
He is Italian accent Foldabot.
Ad blocker interference detected!
Wikia is a free-to-use site that makes money from advertising. We have a modified experience for viewers using ad blockers

Wikia is not accessible if you've made further modifications. Remove the custom ad blocker rule(s) and the page will load as expected.