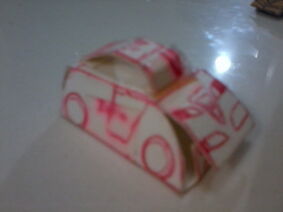 Bellenite is a concept car Foldabot.
He was an Italian accent has no regrets, he's a serious to fight Lutabots from getting accomplished to win fair and square. His personality are calm, regression and fearless has no emotions.
It transformed into concept car in vehicle mode.
Alfa Romeo 166 Bertone Bella 99'
Horsepower: 225hp
Body style: Concept car
Engine: 2.6 L
Transmission: 5-speed manual
Abilities
Edit
Photon blasters.
Heat vision out of his eyes.
Oil spill located his muffler.
Flash blasters to blind enemies located his headlights.
Plasma flash located his taillights.
Ad blocker interference detected!
Wikia is a free-to-use site that makes money from advertising. We have a modified experience for viewers using ad blockers

Wikia is not accessible if you've made further modifications. Remove the custom ad blocker rule(s) and the page will load as expected.