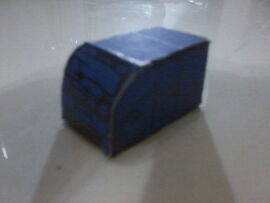 Bagal is one tricky zany magician Lutabot which he has powerful psybeam to slow in every time and destroy the Foldabots  to rule over the Neo-Republika.
Bagal's personality as unkind and good demeanor, but he change his feelings with his evil tricks his name with the Lutabots.
Abilities
Edit
He has powerful psybeam to slow them.
Photon blasters.
Oil spill located his muffler.
He has lutant energy with his haste powers.
Bagal means "slow".
Bagal is actually a zany magician.
He modeled a van was modeled by "Mitsubishi L300 Van".
He has counterpart by the Lutabots.
Ad blocker interference detected!
Wikia is a free-to-use site that makes money from advertising. We have a modified experience for viewers using ad blockers

Wikia is not accessible if you've made further modifications. Remove the custom ad blocker rule(s) and the page will load as expected.