Azurenator
is a Lutabot that appeared in the June 2012 issue of K-Zone.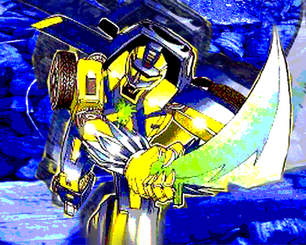 AZURENATOR is a cold and unfeeling SPORTICON who has the power to control his LUTANT toxicity and condense it into ice swords. In sports car mode, his rooftop air scoop conceals an ice-blade blaster. His weakness lies in the slow regeneration of his icy artillery in warm regions. His lack of emotion makes him one of LU-SHO's favorite Sporticon. Azurenator forms the RIGHT LEG of SPORTICUS.
INTELLIGENCE: 3
ENDURANCE: 5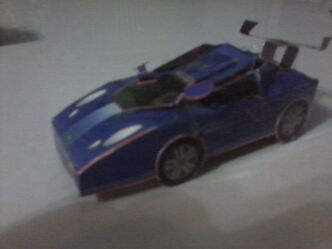 STRENGTH: 4
SPEED: 5
SPECIAL SKILL: 4
Abilities
Edit
LUTABOT MODE:
A Lutant splat is found in AZURENATOR's chest plate.
His ice-plated arm protectors double as weapons.
He has highly advanced optic sensors.
SPORTS CAR MODE:
He has a sport-tuned motor.
His hood scoop collects moisture in the air which he uses to generate ice.
His air scoop shoots ice blades.
How to Build Azurenator
Edit
Azurenator's root "Azure" which is a shade of blue.
At the back of Azurenator, his plate number is "GUIAN". This is a reference to his creator Guian Tumaneng.
Though it says "Sports car", Azurenator is actually a "Lotus Exige".
There have been 2 Lutabots who wield a sword,Azurenator and Xi-Takk.

3 Lutabots if you count Sungay since he duel-wields 2 swords.

He along with the other Sporticons are turned into foldabots by Buhawi.
Ad blocker interference detected!
Wikia is a free-to-use site that makes money from advertising. We have a modified experience for viewers using ad blockers

Wikia is not accessible if you've made further modifications. Remove the custom ad blocker rule(s) and the page will load as expected.