Atenzor 
is a yellow sallon car Foldabot and he looks so mischievous with his clarity and sharing people to take a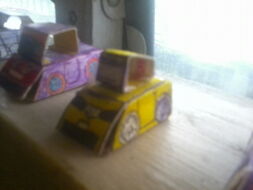 free rides. He was a powerful flaming Foldabot that his fire contains with white flame can attacking lutant goos out of the way and heals with cure bandages with white flames. He was healer and white mage that he looks was a race car or sports car that can be exist he also looks going to race very suspiciously. He transforms into saloon car in alternate mode.
Horsepower: 220hp
Body style: 4-door saloon
Engine: V6
Transmission: 6-speed manual
Abilities
Edit
White flames can heals any wounds and poisons.
White flares can burn enemies.
He has V6 tuned motor.
He has safeguard can protects paint job.
Ad blocker interference detected!
Wikia is a free-to-use site that makes money from advertising. We have a modified experience for viewers using ad blockers

Wikia is not accessible if you've made further modifications. Remove the custom ad blocker rule(s) and the page will load as expected.