Appare-Kaijintron is a mercifide and suicidal moving fortress and the crook Lutabot world-largest biggest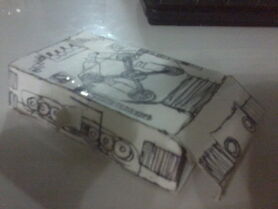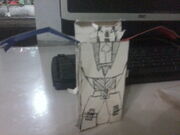 machine.Appare-Kaijintron holds his hands to megaton punch, destroy Foldabot and brings no mercy of the people like his circumstances of his awakened.
He can speaks like the Cantonese language and talks to demands people to destroy all cities.
Appearance
Edit
Appare-Kaijintron has right-arm to blaze with red-coated armored,left-arm to freeze with blue-coated armored,with his legs to kick like dropkick-style and his bodied with hard-abs plate,titanium barred and lutant chest to use Lutant grasp like geyser and squirt enemies to bind energy.
His partner Lu-Sho to comfirm his plan like diabolical plan and takes to city destroyed Foldabots.
Abilities
Edit
Lutabot mode
Edit
His head to absorb energy with his horns and blasts with black bolt.
Pyro punches to blaze enemies.
Freeze punches to froze enemies and grasp armored.
Moving Fortress mode
Edit
Titanium-armored with plate armored
Concealed Lasers to the back
Four-set standard cannons to blast nearby enemies
Spike-mechanical to sharp his backbreaked.
Ad blocker interference detected!
Wikia is a free-to-use site that makes money from advertising. We have a modified experience for viewers using ad blockers

Wikia is not accessible if you've made further modifications. Remove the custom ad blocker rule(s) and the page will load as expected.