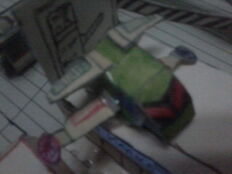 Antisire is a green Foldabot.
Appearance
Edit
Antisire is a green and red star logo with his tattoo, while it transformed into airship in alternate mode. Like his anti-villain he doesn't like Lutabot teams to get bothered himself and he snaps into fight. Now, the Foldabots make conquered the Lutabots and fight back.
Abilities
Edit
Homing missiles.
His rear wing on his airship apart.
His double wings make a propeller turbofan.
Antisire root word anti- means destroyed.
Ad blocker interference detected!
Wikia is a free-to-use site that makes money from advertising. We have a modified experience for viewers using ad blockers

Wikia is not accessible if you've made further modifications. Remove the custom ad blocker rule(s) and the page will load as expected.