His emotions that he wasn't paranoia plan and attacking Lutabots from heinously by 
Lu-sho
 and gets his way to fight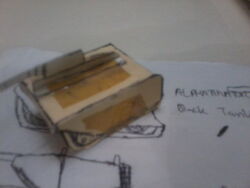 like anti-slime exterminator.
He was a generous Foldabot and he hates explosive to everyone and he wants to explosive someone else.His unconsciousness and doesn't grief-stricken that tried to look like Kapre and teaches to be a military soldier and joins Foldabot member.He transformed into Black tank mode.
AbilitiesEdit
FOLDABOT MODE:
He uses night vision that he use unseen in the dark.
His cannon that he armed turns into spreader cannon.
An agimat-living that supports Alphatinator's chest.
TANK MODE:
Single-style cannon that blasts enemies.
Ad blocker interference detected!
Wikia is a free-to-use site that makes money from advertising. We have a modified experience for viewers using ad blockers

Wikia is not accessible if you've made further modifications. Remove the custom ad blocker rule(s) and the page will load as expected.