He is unembezzler and unvenomous hunter of Foldabot.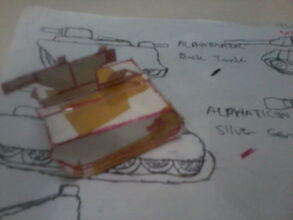 A unrageous robot who lives in Germany and he takes to feud Lutabots and encharge to reinforcement with the German,Tiger and even Cheetah Tanks.His the one who create agimat in his chest that his solar-weaponry and makes a new model.He transformed into German Type-I Tank or Silver German Tank.
AbilitiesEdit
FOLDABOT MODE:
An agimat-living that protects Alphaticon's chest plate.
He armed with single-armed blasters and attacks nearby enemies.
TANK MODE:
Mega cannons that blasts turns into fire cannonballs.
Machine guns through the other cannon.
Ad blocker interference detected!
Wikia is a free-to-use site that makes money from advertising. We have a modified experience for viewers using ad blockers

Wikia is not accessible if you've made further modifications. Remove the custom ad blocker rule(s) and the page will load as expected.