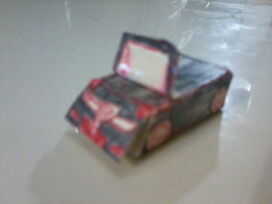 Alfazoom is a speedy runner Spanish-accent Foldabot.
He lives in Mexico, but now he trained at Neo-Republika and his personality have freely dispensing brutally honest advice. 
It transformed into spider car in vehicle mode.
Alfa Romeo Quadrifoglio Spider
Horsepower: 130hp
Body style: 2-door roadster
Engine: 1,962 cc
Transmission: 5-speed manual
Abilities
Edit
His chops have multiple attacks.
He strikes with a powerful kick attack through head.
He blasts with powerful beam on his hands.
He has petrol engine.
Ad blocker interference detected!
Wikia is a free-to-use site that makes money from advertising. We have a modified experience for viewers using ad blockers

Wikia is not accessible if you've made further modifications. Remove the custom ad blocker rule(s) and the page will load as expected.