Alfatron 
is a sportwagon and he was serious Foldabot who works with his buddy 
Alfaprime
 when there was a race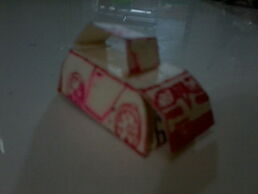 competition. He is serious about his hardcore lessons and likes to fight with the meanest machine 
Xi-Takk
 the worst mechanical Lutabot holding his sword for any worst dangerous moves. He was transforms into sportwagon in alternate mode.
Alfa Romeo 156 Sportwagon 
Horsepower: 245hp
Body style: 5-door estate
Engine: 2.4 L
Transmission: 6-speed manual
Abilities
Edit
He can throw fire of his hands.
He can squirts water of his finger.
He has petrol engine.
He has safeguard to protect without scratch the paint job.
Ad blocker interference detected!
Wikia is a free-to-use site that makes money from advertising. We have a modified experience for viewers using ad blockers

Wikia is not accessible if you've made further modifications. Remove the custom ad blocker rule(s) and the page will load as expected.