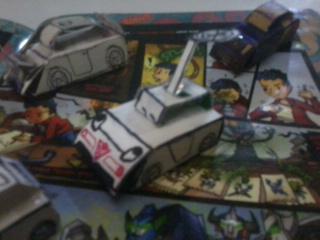 Alfarade is a Foldabot teaching extraordinaire.
Alfarade is one of the Foldabots like Bughaw was a teacher by teaching kids how to drive a car skills. He is always on alert was a compendont for incoming Lutabot responsibilities which he can detect using a superior antenna. Though he maybe he uses his punch to knock made from lightning.
It transformed into crossover in vehicle mode.
Horsepower: 450hp
Body style: SUV
Engine: Diesel
Transmission: 6-speed semi-automatic
Abilities
Edit
Lightning punches.
Antenna blasters.
Antenna sparks.
Laser blue photon blasters.
Agimat blasters.
Ad blocker interference detected!
Wikia is a free-to-use site that makes money from advertising. We have a modified experience for viewers using ad blockers

Wikia is not accessible if you've made further modifications. Remove the custom ad blocker rule(s) and the page will load as expected.