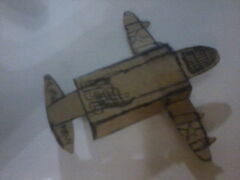 Akatsukiprime is one of the fastest and most charming guy with his superior skills with a spinning, shooting Lutabots and more enemies like antagonist soliders. It transformed into Middle Class Bomber in alternate mode.
Personality
Edit
Akatsukiprime is a luckiest charmed aircraft and he likes to fight bad robots and evil villains.
Abilities
Edit
Gatling guns.
Turbofan engine.
Red lasers.
His hands have fire energy.